Bio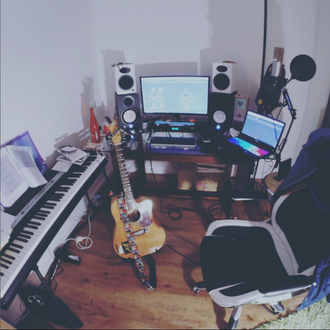 In a Nutshell
(No more Ether talk)
I am a British Solo Artist currently living in Paris. I have been writing songs for more than 25 years and have recently decided to go full-time. And it has been an interesting bitter-sweet adventure so far!
My Artist Name Diesel Trampoline is  derived from the mechanical workmanship that has gone into the crafting of the songs which contrasts with the resulting cadence and freeness.
This is my first Album and while I had the luxury of cherry-picking from the 50 or so compositions , it did not deter from the sweat, tears and love (even blood!) that went into making of the  Album. 
I started playing music at 9 in Scotland, my birth-place. Trumpet was the instrument of choice much to the chagrin of my parents. I got to a pretty decent level by the time I was 14 and then converted to guitar. Within 6 months I had started writing songs .
Since then I've had more than 25 fruitful years composing and have recently started writing on piano. I have a few unreleased songs coming soon in the next EP (check for hidden links on this page).
The genre does tend to range but I have recently settled with Folk - which flies on the wall of the general health of our Terra Firma and our place in it.
I record a lot of my material in my home studio here in Saint-Germain-en-Laye (which is on the outskirts of Paris) and the most popular 'organic' song has proven to be "Shake a Little Love". I recorded it live and released it as a single on Spotify recently. Click below to see the Go-Pro live recording. (the Negative Imaging is a theme for my home recorded material)
Since my childhood in Scotland I have lived and worked in London, Sydney, Singapore and Paris. And it was in Australia that perhaps some exo-planets aligned when answered a newspaper clipping from a local Record Label looking for artists with original material. I checked the all the boxes and started working with Oceanic records for about 4 years. Steve Lyndsay, the founder, was a great mentor. He guided me into the serious business of making original music and also introduced me to the world of digital recording. Roll the tape forward a few years and I now work at home with a Digital Audio Workstation - namely  'Cakewalk'  (previously Sonar). I am still beguiled to this day, by what can be done in terms of quality and diversity with just a converter, a midi keyboard, a half decent microphone and a PC/Laptop. 
I continued to play and write during my time in Singapore  following the Global Financial Crisis in 2008 - when I found myself in Sydney without work. As Asia made the leap to Straight Through Processing on the Futures markets (where I specialised in IT) - Singapore became a fashionable hub for Asia Pacific. And it wasn't too long before I was skulking the food courts of  Little India  - following my nose to the next delicacy, and working a day-job there.
Within a month of arriving with a suitcase and a guitar, I had my home studio up and running, and continued, as I still do, in the pursuit of the perfect song. One of the quirks n Singapore was that original music needed to be moderated before it could be performed publicly. This was to avoid the wrangling of any political coat-tails I imagine. It wasn't really a hindrance though and during those 2 years I discovered South East Asia and it's environs, which gave me a wealth of inspiration for song-writing for the years to come - and some great friends!
And to Paris - where I continue to write and perform. I recently  recorded the second half of the album "Alright" in the studio with Joshua Hudes (Resonance93) with the more  noteworthy tracks 'Egg and Baon', 'Time to Get Along' and 'Polly the Politician'. We are due to work on a new EP by the end of the year so I will be drip feeding the home-recorded versions of the songs in the members section. I have also just released a remix of the song "Alright" on Spotify (click below to stream).
Where the story goes from here  is anyone's guess but the Ether's)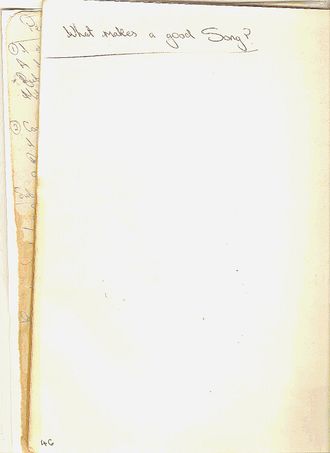 You are visitor number: 327